ABOUT KATIE KALSI
"THERE'S NO BETTER FEELING THAN DOING WHAT YOU LOVE."
Katie Kalsi has a passion for art. Her creative spirit was evident in illustrations and paintings she created throughout her childhood. Growing up in Memphis she fueled her creative fires with sewing, jewelry and art projects. Today her passion finds purpose in the wearable art that defines her unique and successful handbag brand. Kalsi's first handbag debuted in 2003 after she spent years expressing her creativity on canvas. She combined her painting and sewing skills to produce 23 hobo style bags that were set off by hand painted and interchangeable leather straps. The versatility of each bag encouraged individuals to express their personal style. Kalsi kept a bag for herself and distributed the test to family and friends. The style of the bags combined with the artistic straps perfectly blended Kalsi's passion for beauty and function. The handbags quickly became favorites of those who carried them and soon thereafter. Kalsi was filling requests for handbags from individuals and area boutiques, alike.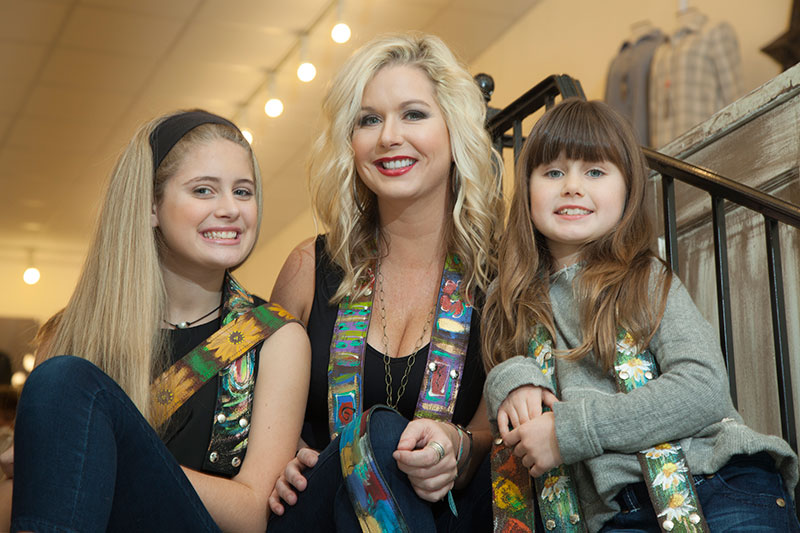 Kalsi values the critical role her family friends and heritage play in her success. In fact she names each handbag style after friends or family members who offer on going encouragement and inspiration. Kalsi's office sprawls throughout her parent's old weathered barn in Tennessee. The barn and the surrounding environment- blending comfort, durability and dynamic energy- serve as the perfect backdrop to foster her creativity.
Kalsi designs for women like her- mothers, daughters and faithful friends. Her bags are adored and carried by celebrities including Britney Spears, Lisa Marie Presley and Taylor Swift. The line features three hobo style bags as well as a clutch, satchel and cross body styles. Each bag made in the USA is created with luxe leathers, classic textures and vibrant colors that epitomize the free spirited brand.
Kalsi's dedication to her creative vision of wearable art and impeccable quality earns her national recognition. Katie Kalsi handbags are a featured brand for the national retailers. Her styles are available for purchase in an array of boutiques.

When Kalsi is not creating handbags, she volunteers with many charities across the Mid-South, including the Humane Society, St. Jude Children's Hospital and the Women's Foundation of Memphis. Kalsi graduated from the University of Mississippi and lives in Memphis with her two daughters, Sophie and Sadie. Kalsi enjoys painting and exploring her surroundings for new ideas
When Kalsi is not creating handbags, she volunteers with many charities across the mid-south, including st. Jude's children's research hospital, the humane society of memphis and shelby county, the women's foundation of memphis, anna's closet and the International Down Syndrome Coalition (IDSC).
In 2013, katie began the special charity collection – creating a way to support causes that are dear to her heart. Kalsi gives a percentage of proceeds of sales from special edition handbags and straps to specific non-profits.
For more info on donations please contact amy antcliffe 901-605-1949
For more information about this collection, email info@katiekalsi.com.
It is katie's privilege to have great partnerships with organizations that make a positive impact on their communities.
Photo credit: cindy b. Thymius